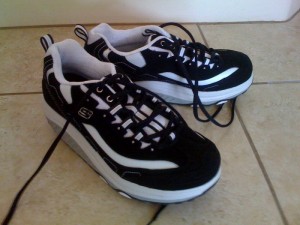 I finally got the Skechers Shape-ups I've had my eye on since last summer. You know, those weird-looking shoes that promise you'll "Get in Shape Without Setting Foot in a Gym."
We'll see about that. I took my first walk in them today, a couple of times around the block, totally feeling like I was in a breezy Skechers commercial. And boy am I hurting right now already!
But not because of the "gymless" workout.
On my way home, one of the girls, whom my sister has affectionately given the nickname "Dozer" for her propensity for crashing into people, crashed into me. With her brand-new Diamondback mountain bike. Her hand brake jammed into my ulna and my whole wrist became a tingling ball of pain. And I think her tires hit me somewhere, too.
So, yeah, to those of who want to know if the shoes really work, the jury is still out. But my forearm muscle sure hurts!