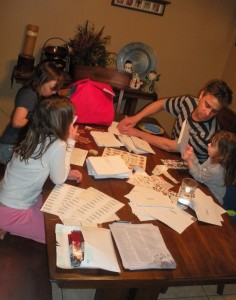 This year, I almost ran out of time to send out our annual holiday card and newsletter. Almost. But I had the cards made, picked them up, wrote the newsletter, printed it on pretty paper, and got them ready to send just in the bare nick of time. To expedite the process of actually getting all 114 out, I enlisted the family. After all, the card is from Us, and should be sent out by Us, right? So I gathered the troops, placed them strategically around the kitchen table and gave everyone their orders: Twin B was the return address and stamp putter-onner, Twin A was the address label putter-onner, I was the newsletter folder and card stuffer, BK was the sealer (with a sponge and water, no spit, gross), and Little Miss was to put on the envelope any kind of random Christmassy stickers that she could find around the house.
"Uh, do you know that she's putting Trader Joe's stickers on these?" asked BK.
"That's OK, it's quirky and campy. Besides, they're Christmassy," I said all casually and nonchalantly, as if that's how I am about our cards.
We had Christmas music playing, and it was festive and fun.
Until I turned into the Card Nazi.
"Who put that stamp on upside down?" I said, in a scary Exorcist voice, as an envelope made its way down the assembly line. "We cannot have this! If you're going to be part of the process, we need to have strict quality control here!" Yes, I said that. (Although it really wasn't Exorcist mean, but bordering on Kate Gosselin mean.)
And then:
"Oh my gosh! All those address labels are crooked! You have to put them on straight, like this!" I said, getting all hot and sweaty.
And then: BK had the idea to make some hot tea for us all and serve it with some freshly baked shortbread cookies.
"Are you kidding???? And get all that shortbread grease on the cards????" was my response to his kindly offer.
I was Kate Gosselin.
But these were our Christmas cards we were working on!
The thing is, I do take time with our card, selecting the right pictures, and then carefully wording our newsletter so that it doesn't come across as braggy or boring. We all know those holiday newsletters get a bad rap. There are actually websites and blogs devoted to the Bad Holiday Newsletter. Really. I don't look too closely at them, though, for fear of seeing one of mine on there.
I actually love receiving a newsletter, and am a little disappointed when I open a card and there isn't one. I also love seeing the photos of everyone's kids, and how cute they are and how much they've grown over the year. But that's me. When I deposited those 114 perfectly sealed, almost perfectly stamped letters into the mailbox, I cringed a little, knowing that there are people out there who don't feel the same way as I do about them. And that's OK if they are met with a sigh, an eye roll and an "oh, please," before ending up in the recycle bin. I just don't want to know about it. Or see it on a website someday. In the words of Rachel Zoe: I. Would. Die.