Last week, we went to Disneyland, where Little Miss experienced what had to be, so far, the best day of her whole 4-year-old life. Or so I thought.
Like just about every other little girl around this age, she is deeply entrenched in the "princess" phase, her room overflowing with Disney princess Barbie dolls, plush Disney dolls, princess costumes, hair accessories, sheets, etc.
Although this wasn't her first Disneyland trip, it would be the first she would really remember, and we wanted to make it extra memorable. So prior to the trip, I booked her a surprise appointment at the Bibbidi Bobbidi Boutique, an adorable little salon and gift shop (of course!) located within the iconic Sleeping Beauty Castle.
On the morning of the appointment, she had no idea what was in store for her, other than that there was a surprise and that she got to wear her pink fairy costume into the park that day.
When we arrived and checked her in, I explained to her what was going to happen. I'm not even sure it registered with her, as she was pretty enthralled with her surroundings. (Picture the Disney Store on steriods—well, female hormones, I guess, as it was a sea of pink and jewels and princess everything.) Here's how happy such a store makes a man, especially a father of three daughters: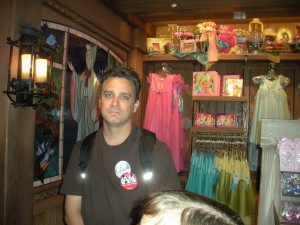 As soon as Little Miss got seated into her salon chair, the "fairy godmothers"  began bustling about her, applying makeup, styling her hair, sprinkling her with "pixie dust," affixing cotton-candy-colored extensions (her choice) and placing a giant jeweled ring on her finger: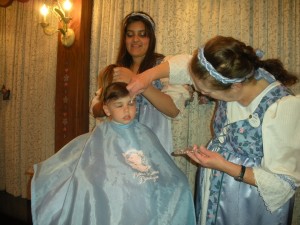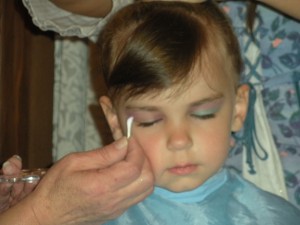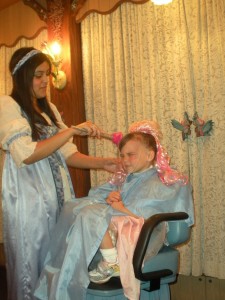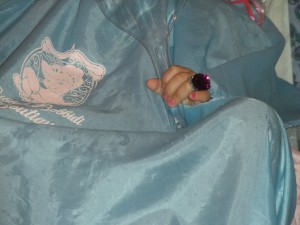 She loved it, as the rest of us watched the transformation from a bench meant for the admirers. Though her "stepsisters" (as the Disneyland photographer called them) were happy for her, they seemed a little bored and anxious to hit the big-girl rides: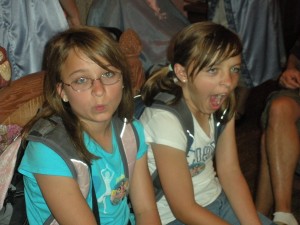 When she was all made up, sprayed and glittered, the "fairy godmothers" unveiled the mirror, which was hidden during the process. The look on her face when she first saw her princess-ified self was priceless: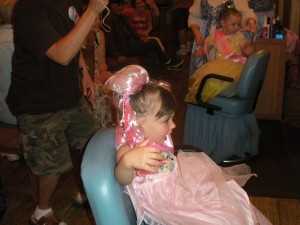 Afterward, while she and the rest of the family went on Dumbo, one of her favorite rides, I stood in line for more than an hour at the Princess Fantasy Faire, where some of the A-list princesses are on hand for a private meet and greet. This was the moment she had been waiting for, and they arrived from the unexplainable mass chaos of the Dumbo line just in time: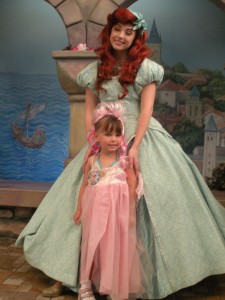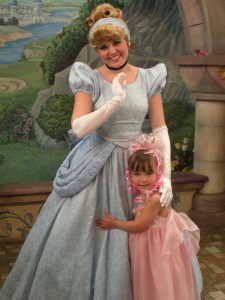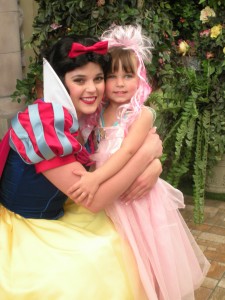 She was so happy and giddy and delighted, exactly what any little girl in her Disney Princess light-up shoes would be. The day was certain to be imprinted in her memory forever. Or so I thought.
Later that night, as we sat on the crowded sidewalk awaiting the fireworks show, I asked her if it was the best day of her life.
"Yes," she replied, with that sweet, dreamy look on her face, no doubt recalling the events of the day.
And then, she leaned out of her stroller with outstretched arms, and said, "Mommy?"
"Yes?" I said.
"Thank you for that frozen strawberry lemonade you bought me today," she said as she hugged me tightly.
Wow. That's what she remembered from the day? I didn't even need to say anything, as Twin A's response said it all:
"Do you know how much money you could've saved?" she said to us, between peals of laughter. "How much was that lemonade, like $3.75? You could've just spent $3.75 and she'd be just as happy!"
As if that weren't bad enough, when the trip was over and we asked her what her favorite ride was, she said "the carousel."
The carousel? We could just go to our local mall and ride that for a $1 token!
Still, I prefer to look at it this way:
Daily admission to Disneyland: $62.
Salon makeover at Bibbidi Bobbidi Boutique: $55-ish.
Frozen strawberry lemonade: $3.75.
The look on her face all day long: Priceless.
Which just goes to prove, you can't put a price on the magic of Disney.
Well, not until the Disney Visa statements start rolling in, that is.