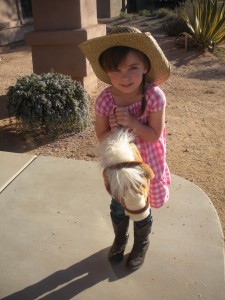 Last week, Little Miss's kindergarten class celebrated Arizona's birthday. All the children were to dress up in their finest Western wear (because that's how we all dress here in Aree-zona). We dug out some old boots from when the twins took horseback riding lessons, picked out her most Westernish dress and found a safari hat we got at Disney World that Poppy fashioned into a cowboy hat by curling and tying up the brim overnight. A little ghetto, but it worked.
I don't know if it was the outfit or what, but later that evening, Little Miss casually mentioned to one of her sisters that "Today, Peter called me and another girl the 'S' word, but not the really bad 'S' word," she said, all wide-eyed and reassuringly. (The "really bad 'S' word" is stupid.)
"Well what word did he say?" her sister asked. (This is the same boy she had a crush on in the beginning of the year, but she has moved on and there have been two others since.)
"The "S" word that all the singers say, like Ke$ha. Ke$ha says it all the time." (This is what happens when you have a 5-year-old with middle-school sisters—forget cutesy sing-along songs; she listens to their music.)
And then she spelled it out for us: "You know, S-E-K-S-I."
Ohhhh, that "S" word.
I think I would've rather he called her S-T-U-P-I-D.
Why in the world is a 5-year-old boy is saying this, and how in the world does my 5-year-old know it was kind of a not-so-nice thing to say? (Unless you're my age, of course, then, bring it on!)
The next day, I repeated the conversation to the teacher. She didn't get it when I spelled it the same way Little Miss did. So I had to say it: "SEXY. He said she was SEXY."
"Ohhhhhhh," she said. And then her expression changed from confusion to horror. And then she said something only a teacher would say:
"Well at least she spelled it correctly phonetically, I guess I can be happy about that!"
Yes, me, too.  Her father and I are thrilled.