Last weekend, we spent the entire two days working in the yard. Not being the most adept at Hula-Hoeing weeds or trimming trees, Little Miss decided to go inside to work on her own project. When dusk fell and we quit, I was summoned by the Mr. using my real name. (He never does that, instead either using a shorter form of it or an original nickname, like Wife or Friend.)
"Uh, Wendy?" he called to me through an open window, as I was outside picking up dog excrement. "Uh, the little one decided to label her dresser drawers while we were outside."
"Really?" I said, impressed that she would take such initiative. She and I had just reorganized all her clothing for the upcoming warmer months.
"Yeah. With a Sharpie," he replied in that calm, even tone that could only mean it's something really bad, like when he got stung by a scorpion or got into a fender bender.
I went inside to inspect the damage: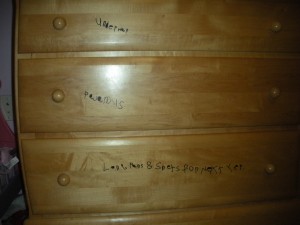 Yup. Sure enough, it was Sharpie. On the wood. Both dressers.
But when I looked at her labeling job—underwar, pajamus, long pans & shets for next year—I couldn't be mad. (The Mr. was doing a fine job of that himself.) For one thing, she labeled them properly. For another, her spelling wasn't too bad. And she even used an ampersand! But just the fact that she took it upon herself to label them—and correctly—made my heart swell with pride. (I'm a sucker for labeling.)
I only wish she had used my label maker.
As the Mr. lectured her about how we don't write on wood, telling her she needs to ask before she writes on anything and banning her from the Sharpies, Twin A was already Googling how to get Sharpie out of wood.
"Try toothpaste!" she called out.
We did. All it did was make a smeary mess that smelled like mint.
"Look up the Queen of Clean's website!" I shouted, as the Mr. was vigorously rubbing Goo-Gone into the wood to no avail.
Then Twin A had a sudden brainstorm. She came running into the room with the Mr. Clean Magic Eraser.
It worked! With only a little elbow grease, the Sharpie came right out.
We decided to take the experiment further by trying it out on our kitchen table, which for months had bore the scars of another Little Miss creation, a Sharpie art project that had soaked through the paper. It worked!
It was a valuable lesson learned. Up next: Teaching Little Miss to use the label maker.