In the wee hours of this morning, something a little disturbing happened. At 12:38 a.m., a teenager began occupying our home. And then just 20 minutes later at 12:58 a.m., there was another.
No, we didn't not have a spontaneous house party, but our Natalie and Nicole turned 13 today, and I have a feeling our lives are about to change. Not, perhaps, as drastically as they did 13 years ago when these girls came into this world—at least I hope not—but change they will.
Now here's the cliched question: Where did the time go?
No, seriously, where did it go? I can close my eyes and instantly bring myself back to the moments they were born, at 12:38 a.m. and 12:58 a.m. Because of pre-term labor, I was in the hospital for two weeks, doped up on all kinds of horrible meds that gave me bad dreams and crazy thoughts. Just about every night during those two weeks, the contractions came on like crazy, and depending on which nurses were on staff, I may or may not have been whisked in a panic to the delivery room and prepped, only to have things slow down and I'd be returned back to my room.
This went on almost nightly, and as it got closer to July 29th, Mr. BK's birthday, I decided two babies would be an awesome birthday gift, and set a goal to have them then. Plus, I couldn't exactly head out to the mall, and there was no Amazon.com back then, so that was all I had for him. But I quickly learned that you don't really "set goals" when it comes to childbirth, and on the eve of July 28, I began to develop the dangerous condition of pre-eclampsia, meaning I needed to get them out stat—or else. So hooked up to a Pitocin drip and my waters (yes, waters—two bags) broken for me, it was time. But it was only about 5 o'clock in the afternoon on the eve of their father's birthday. As the painful hours passed, I became more and more determined to hold them in until at least the stroke of midnight.
"Do you feel the need to push yet?" the nurses would come in and ask. I'd look at the clock—only 10 p.m.
"Um, no, not really," I'd grimace, even though I felt like I could go #2 at any second, the hallmark symptom of "feeling the need to push." These babies were going to be born on their father's birthday and that was that.
When midnight finally struck, I breathed a huge sigh of relief, and finally confessed to my need to push. And just 38 minutes later, we heard the sound of Natalie's tiny cry—and the silence of Nicole's absent cry. "This one decided not to breathe!" is what I heard instead. But that panic only lasted a minute while the nurses did their thing, and then I heard her loud cry.
And then from there on, it's like I'm watching the past 13 years on fast-forward, speeding right through everything: first steps, birthday parties, playdates, illnesses, school years, family trips, and now suddenly, they're teenagers! Where, oh where, is that pause button?
Sadly, there isn't one, but if I could just pretend there is for a moment, I would like to hit it and dedicate this blog to my special girls. One at a time, of course.
Nicole Helena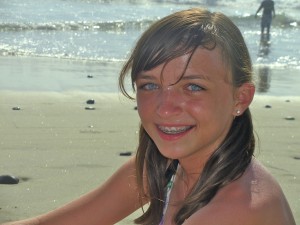 My dear, sweet Nicole. Did you see what I did there? I put YOU first, because for your whole life, it's always been "Natalie and Nicole." I don't know why; it just sounded better that way, plus it was natural, since Natalie was born first.
Now speaking of that…you were supposed to be born first. All along, you were "Twin A," and all along, you were poised at the, um, entrance, ready to come out first. But then, fittingly, either because you were being polite or because you were being pokey (both of which are entirely likely, as we now know), you decided to wait. Or, Natalie was being bossy and cruised right past you (also entirely likely, as we now know).
And then you decided to wait to start breathing, too. You scared me a little there, but only for a minute. Had I known then that you just prefer to take your time doing things, and doing them your own way, I wouldn't have worried so much.
Sort of.
But you have made up for that little scare by being so easy, so pleasant, and so trouble-free just about every single day of your life. Eating, napping, playing…nothing was a struggle even as a toddler. There were never those "Terrible Twos." Or Threes. Or anything. Well, except for maybe that 3rd-grade year, your self-described "schizophrenic" year. Hey, you said it, not I. And anyway, that wasn't so bad. You were just trying to figure yourself out. Everyone has years like that. It would be great if we could keep this "easy" pattern going during these upcoming teen years, OK?
When you were born, you smelled like cookies. I couldn't stop smelling and kissing your sweet little cheeks. That's why we called you "Cookie Face" for the longest time. You were pure sweetness. To this day, you are pure sweetness. When I think of you, I think of the color white. You are such a sweet, sweet soul and one of the kindest, most gentle people I know. And not just because you are my daughter—but because that's just you. Anyone who knows you would wholeheartedly agree.
You amaze me every day with your creativity, and your patience to funnel it in ways I can't even imagine—making highly detailed sculptures no bigger than an ant, crocheting, knitting, sewing, making stages for Noelle's Polly Pockets and tiny houses for her critters and creatures, and even fashioning hair ties for me out of seaweed when mine break in the ocean.
You are wise beyond your years, and have always given Poppy and I questions that make us think. It's no wonder you've always been such an awesome student—not just in school, but in life.
I can't wait to see what you are going to do with your life. Your preschool teacher predicted you would be some kind of minister or missionary, or another Mother Teresa. I can see that. But I can also see you doing something in the sciences, something that requires you to use your brain and your hands. (Are you sure you don't want to be a doctor?) Whatever you become, I can already say that it has been a pleasure watching you get there. From the minute you were born—literally—you have done things your own way. I have always said you were "sweetly stubborn." I don't know anyone who can convey the message, "No, I don't want to do it your way AT ALL, I have my own ideas, please leave me alone" in the sweet way that you do. Although you have never said those words in your life, you have your way of letting me know that's what you're thinking. This "sweet stubborness" is and always has been a part of you, and I love it. (Except it does frustrate me when we're clothes shopping!)
When you and Natalie were younger and I had my fun at dressing you either exactly alike, or the same but in different colors, I always put you in pink. I thought you were going to be the delicate one, the one who would always want bows in her hair and pretty shoes on her feet.
I can hear you laughing now. You, the girl who is always up for any outdoor adventure and has skydiving on her bucket list. The girl who, on our recent camping trip, was barely seen nor heard all day, as she was busy hammering geodes open or exploring the forest. I love, love, love your adventuresome spirit, and I hope that stays with you always.
How long did it take before I finally figured out you shouldn't be the one in pink? That you didn't want bows in your sweaty little curls, and that you couldn't care less what your shoes looked like, as long as you could run fast in them?
How much money did we give Miss Nadya, and how much hair gel and bobby pins did we go through before we finally realized that you hated your thrice-weekly ballet classes, and only liked the yearly performance? Could that be why you never really did get your left and right feet figured out, and why you fell and lost your Beethoven wig on stage? Yes, you definitely seem more comfortable and confident on the basketball court, and the family so enjoys watching you steal the ball and zipping around the court, always with a huge smile on your face, and always offering a helping hand for fallen opponents and teammates alike.
In fact, you play basketball the way you do everything in life: with a smile, polite yet determined, and always supportive and encouraging of your teammates. Keep that up both on and off the court, and I promise, it will get you far in many aspects of your life.
As parents, it's natural that we recognize certain traits in our children and try to pinpoint from whom they're came. While you most definitely are your own person, you did get your DNA from us, so If I could be selfish for a moment, I'd like to state that you absolutely represent the best parts of both Poppy and me. And despite what the majority of strangers say, you got your blue eyes from me, and right now with your braces and when you wear your glasses, I see me, in 5th and 6th grade. (But you are much prettier and far less geeky than I was.) I guess because of that, I thought you would be a lot like me, but it turns out that you are a lot more like Poppy in many ways. Both of you, let's say, aren't bothered by disorder, you're both very mechanical and analytical, you both love the outdoors and you're both extremely loyal and trustworthy. That being said, you're also sensitive and empathetic. It makes me so proud to see that in you, because before you were even born, I knew that was one of the traits I really wanted to instill in our children.
We are so lucky and blessed to have you as a daughter, and your sisters are lucky and blessed to have you as a sister. You make a perfect BFF for Natalie, and an excellent role model for Noelle. I hope you have a fun sleepover party tonight with your friends, and I hope your first year of teenage-hood is exactly how you want it to be.
We love you, Cookie Face!
Natalie Celestina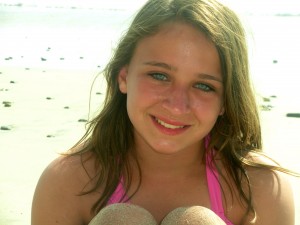 Oh, Natalie. Chatalie, Battalie, Tattalie…so many nicknames over the years, each evolving with your dynamic, vibrant personality. If Nicole is the sweetness in our lives and home, you are the lightness.
The minute we first looked at you, you really did look like Nonina, your namesake. With your olive skin and long, thin nose, you looked just like a cute little old Italian lady. I swear I wouldn't have been surprised if you'd have been born with a babushka on your head and a loaf of Italian bread tucked under your arm. Since we didn't know if you were going to be boys, girls or one of each, we had already decided yours was the girl name, so since you were first, you got it. And even though you weren't supposed to be first, it couldn't have worked out or suited you better.
Like lots of things in life, I suppose you just knew that was the right way to do it.
You were a crabby baby. Not crabby as in cranky, but just serious and all business.Which is so funny because that's exactly the opposite of how you turned out to be. But in those early days, I would nurse you and you would either look at me sternly or not look at me at all, and in my post-partum, sleep-deprived state, I would say, "She doesn't even like me; it's like she just wants to nurse, then she's done with not even like a thank you or anything." That went on until you were old enough to say "itch da," which meant, "switch sides."
We called you "Owly," because once when Poppy's very midwestern friends came to visit you, they said you seemed "a little owly," which in Wisconsin/Iowa-speak, must mean crabby. The name just stuck. Plus, we thought you seemed wise.
Because grandparents and aunts were the only ones who ever babysat you (to this day!), we made them all take a CPR course. This proved to come in handy, what with your breath-holding spells that would begin with a cry, followed by a failure to inhale, followed by turning blue, then passing out and even seizing a couple times. It got to the point where everyone around you (especially me) would instantly go into panic mode if you so much as bumped your head or stubbed your toe. (Literally—a door running over your foot once resulted in a call to 911 and an ambulance ride, all while I was suffering a bout of the stomach flu.) Yeah, those were good times, girlie!
When that first started happening, we took you to all the necessary specialists, only to have the neurologist diagnose you as "precocious," something he said he saw 20 times a year with his young patients. At that appointment, he gestured at Nicole and said, "This one does it too, doesn't she?" And actually, yes, she did, but not to the degree you did. She'd stop breathing and turn magenta, while you took it to the blue spectrum. And speaking of colors, that's about when I started noticing gray hairs.
Still, despite these episodes, you quickly went from "owly" baby to happy, exuberant toddler. You were a ball of pure energy who had little use for naps. You ran around the house from day to night like a little ant—in fact, Nonno used to call you formica, which is "ant" in Italian. And once you started talking (first word: "April," our Beagle at the time), I swear, you've never stopped. Thus, the nickname, "Chatalie." And we love it. You bring so much fun and laughter to our house now that it's hard to imagine you as the "owly," serious baby that you once were. Well, most of the time, anyway.
Although at the time, I scoffed at the "precocious" diagnosis and insisted on further tests of your heart and brain, it turns out that old, eccentric doctor was right. You quit with the breath-holding spells at age 3, just like he predicted, and then you were reading chapter books at age 4, and even narrated your preschool play.
You've amazed us and made our hearts swell with pride with your every accomplishment, which seem to come to you with ease. You amaze me with the way you set goals for yourself, and then achieve them one by one, as if you have a checklist. (Wait—you probably do have a checklist, as this is the girl who makes a list of not only what she has to pack for a trip, but another list of what she has to re-pack for the return trip.)
When you started in ballet, you just "got it" right away, as if you were born with a bun and a leotard. You loved being on stage, and we all loved watching you perform for years. Then you decided you were more interested in gymnastics, and I was too busy with a new baby to see about finding you a class, so you taught yourself by looking up techniques on the internet. When I finally did get you enrolled in a class, your teachers were so impressed with your front and back handsprings, they asked you what gym you'd been training at. "I taught myself on E-how," you'd say. They were astounded; I'm still amazed. I have always wanted to do a back handspring and never could, and at this point, probably never will, and it makes me happy that you can. (And I'm so happy that you got it back this year after losing it for a year out of fear.)
I love how you figure out what you want to do, you learn how to do it, and you do it and you do it well. This determination and resourcefulness will get you far in life, and I'm excited to see what you're going to do. Right now, you say you want to be a graphic artist or in advertising/marketing when you get older. You have so many qualities that would be right for that field, so it will be interesting to see if you choose that path.
Because you were so serious and analytical as a baby, we all assumed you were taking after Poppy. But we couldn't have been more wrong about that. As you get older, it's seeming like you and I are alike in a lot of ways. We both enjoy doing so many of the same things—reading, yoga or exercise DVDs, shopping, writing, and recently, hair and makeup talk—and it's a new kind of fun for me having a buddy to do these things with. Even better, you seem to be developing my distaste for messiness and lack of order, which means I have a little more help with picking up around the house and nagging the others to pick up after themselves, so yay!
We are so blessed and lucky to have you in our lives, and we love you more than we can say. You are a truly wonderful daughter and sister, and we are all grateful for your presence every day. I love how you helped out in Noelle's gymnastics class, and that you work with her at home, and that you have become an expert at the "turbo bath" and sometimes read to her at night. I am so happy that Noelle has you and Nicole for big sisters—she adores you both, and I couldn't ask for better role models for her.
Enjoy your party tonight with your friends, enjoy being 13, enjoy your last year of middle school. It will all go way too fast—at least for Poppy and me.
Poppy
And speaking of Poppy, of course we haven't forgotten that today is his birthday, too. He was so thrilled when you were born on his birthday (and oddly enough, the same day his twin cousins were born a decade or so earlier), and he has never once minded sharing his day with you. In fact, he's grateful to share the spotlight, because he thinks the whole birthday thing is kind of blown out of proportion. Still, we always find a way to spread out the celebration. (Now when Noelle was given that due date as well, that was getting a little ridiculous. Thank goodness she decided to wait another four days because we all know she most certainly would not want to share her birthday!)
On the night that you were born, we did manage to have a small birthday celebration in my hospital room, and when this photo was taken, it marked the beginning of a new tradition:
Nearly every year since, sometime during the birthday bonanzas, I try to take the same photo of you girls on Poppy's lap. I remember many times saying, "We're gonna do this every year, even when they're teenagers!" I can't believe that time is already here.
And we will continue to do so, even when you're in college or have husbands and children of your own.
So I hope you have a happy birthday, too, Mr. BK. I hope you enjoy your day that will end with 10 squealing teenage (!) girls taking over the house. I know you would not want it any other way, and I love you for that.
That, and about a million other things.