Valentine's Day used to be my favorite holiday. Ever since I was little, I loved everything about it—the conversation hearts, giving and getting the tiny little cards folded over and sealed with a heart sticker, pink frosted cookies and the heart-shaped boxes of waxy chocolate pieces filled with orange or pink fluff.
Then, as a married grown-up, it was fun to do cute little romantic things like have a picnic dinner in the living room or a hike in a pretty spot and give each other corny cards. (We always thought it was too mundane to go out to dinner at a nice restaurant just because everyone else was.) Whatever we did, it was always fun and romantic.
And then we had kids.
When they were babies and toddlers, it was just nuts and I don't even remember what we did for Valentine's Day. It got worse as soon as the twins hit school age.
That's when Valentine's Day became a job. There were cards to write for the entire class (times two), class parties to plan and help out at, cutesy breakfasts to make, little treats to tuck in school lunches and special dinners to prepare.
I remember when the twins were in kindergarten, we took a 10-day trip to Walt Disney World at the end of January. Knowing it would be Valentine's Day when we got back, I had them work on their Valentines on the plane on the way there. All the flight attendants were so impressed, and kept coming by to comment on how cute the girls were, and what a great mom I was for having them work on them so early.
I was pretty impressed with myself, too, having packed the class list, the two sets of cards, the pencils, stickers, etc.
I don't know what happened to that mom.
Fast forward to seven years of Valentine's Days later, with our third daughter now in kindergarten, and all I can say after this Valentine's Day is:
I suck.
Maybe it's the fact that Little Miss is the second go-around for me, or maybe it's just that life has become too busy, but that mom on the plane who had it all together? She must've taken a solo vacation this year, 'cause she was nowhere to be found this year.
Several weeks prior to the holiday this year, Little Miss's teacher sent home a note instructing parents to help their child make a mailbox out of shoebox, and to not write individual names on the Valentines, so as to make delivery easier and more efficient during the class party.
Knowing how difficult it is to prod a 5-year-old to write 26 Valentines, I intended to get an early start, buying the Valentines a full three weeks ahead of time.
That doesn't mean we wrote them out that early.
No, we waited until the weekend before, during which there was a birthday party, double-header basketball games, grocery shopping and a bunch of other weekend tasks thrown in. By Sunday night, Mommy lost all her patience after the 149th time of telling Little Miss to stay at the table until all the Valentines were written. Plus, Little Miss liked the ones she picked so much that she wrote out six for herself, which meant now she didn't have enough for everyone in the class so she had to borrow some from her sisters, but then we discovered those had Bible verses on them and because you never know if that will offend somebody these days, I had to run out to CVS to buy another box. (I would've let it go, but I had to run out anyway because we were out of Scotch tape, which we needed to tape the Valentine pencils and lollipops to the card.)
Earlier in the week, Twin B helped Little Miss decorate her shoebox. The first-time mom of seven years ago might have looked in dismay at the crooked patches of pink construction paper, bubbled up from way too much glue, and the "Happy Birthday!" stickers and hand-drawn peace symbols on top of the box. But the practical mom who's been there, done that, cringed just a little and thought, "Well it's just going to get thrown away anyway, what's the difference?"
When I walked her into the classroom the next morning to help her carry in her box and Valentines, I saw the difference.
The back table was already filled with boxes that I might buy at a fine stationery boutique if I ever had a need for such a box. There was the large round hatbox adorned with Marabou feathers and pink glitter, another box had the child's name spelled out using cutout letters each mounted on a stick, another was covered in a scrapbook layout of photos of the child. And here was "ours:"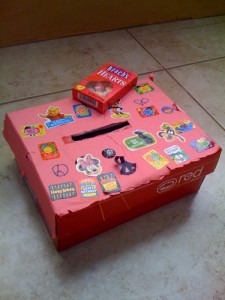 GHET-TO.
Already feeling bad for my numerous "FOR THE LAST TIME, CAN WE PLEASE FINISH THESE VALENTINES BEFORE I REALLY FREAK OUT" outbursts, I felt even worse walking back to the car. "At least I put red bows in her hair today," I thought to myself.
I came home and told the Mr., describing in detail all the fancy boxes, and all the presents piling up on the teacher's desk. (We gave her a giant Hershey's kiss that said #1 Teacher, which I thought was nice until I saw the elaborately wrapped gifts, flowers, plants and chocolate-covered strawberries other kids were bringing in.)
"So what?" said the Mr., who incidentally, had taken the day off to spend with me only to find out that I had to volunteer later that day at the class party. "There's no value in that! Do you really wish you would've spent hours putting feathers and glitter and crap on a box, just so she can bring it home and throw it away?"
Well, yes, I kind of do.
I sulked about it for a while, vowing to do better next year. Later, we went back to the classroom for the party, where the teacher got annoyed because the other room moms and I didn't know how to make a bouquet out of the pile of paper hearts, pipe cleaners, doilies and tissue paper she left out for us while she was in a meeting.
Even my rocket scientist hubby–who came to the party, because, well, we were spending Valentine's Day together— couldn't figure it out, so there. Sheesh.
The party was chaotic and stressful, the kids were all wound up and sugared up, and we were glad when it was over.
Except:
Just as the bell was about to ring, and the kids were all lined up at the door holding their fancy mailboxes stuffed with Valentines, I noticed something in Little Miss's cubby: The gallon-sized Ziploc bag full of all of her Valentines carefully taped to the pencils and lollipops sitting there, just the way I left it in the morning. They never got passed out. I wanted to cry. No, I did cry. In a mad scramble, we started handing them out to kids as they were filing out the door, stuffing them in as many hands, backpacks and boxes as we could. Some kids got two or three, some kids got none at all.
All that prodding, all that erasing, all that taping, all that yelling. All for nothing.
But then after we got home and I was emptying her backpack, I saw a pink foam heart stuck to a pink lace doily  peeking out of her folder.
"Aww, did you make me a special Valentine?" I asked Little Miss. But then I turned it over: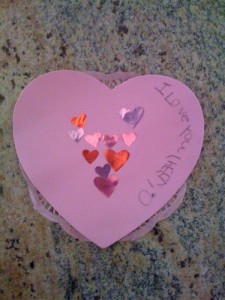 "I love you Cheerio!" it said in her kindergarten scrawl. Yup, it was for the dog.
The dog—who, in the chaos of everyone coming home and sorting through all their cards and candy—somehow got a hold of the paper heart bouquet that Little Miss made. The complicated craft that we room moms apparently couldn't figure out was now a pile of soggy, shredded tissue paper lying in the middle of the living room floor.
I found this hilarious.
Wanting to salvage what was left of our day, the Mr. suggested we all go on a long bike ride in the desert. I ran into a cactus and got a roofing-nail-sized thorn embedded into my thigh, but that bike ride turned out to be the highlight of my Valentine's Day.
When we got home, the Mr. threw some lovely tenderloin steaks on the grill, and by total accident, one of them came out into the perfect shape of a heart, which we enjoyed by candlelight as a family. So it turned out to be a pretty nice Valentine's Day night.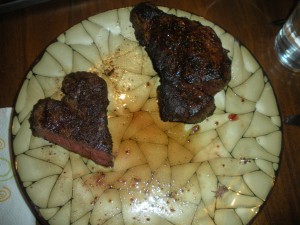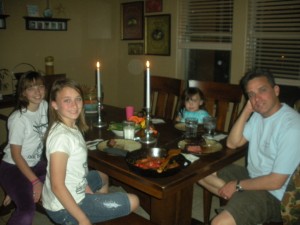 Except:
I got a bad stomachache from the rich meal, after spending all week eating only salads, turkey and fruit. But it didn't end there.
When I put the load of laundry I had just washed into the dryer, I discovered that I had washed the Mr.'s cellphone that must've been in his shorts pocket from the bike ride. It's been nothing but a dead black screen ever since.
And that was my crappy Valentine's Day. If anyone sees that mom on the plane patiently helping her daughters make their Valentines, please tell her to get her sorry butt back home. Her family needs her.