Last week in Disneyland, at the end of one of our family's favorite attractions—Soarin' Over California—I said, "Walt Disney would be so proud of this ride." (I know, in Disneyspeak, it's an "attraction," but let's face it, this is a ride. And a spectacular one at that.) A simulated hang-glider tour of the Golden State, Soarin' takes guests—strapped in tightly under a wing-like canopy contraption thingy—over such California landmarks as Napa Valley, the Golden Gate Bridge, Malibu, a Palm Springs golf course, Los Angeles at night, San Diego and Disneyland itself. It is awesome, and I wish I could ride it every day. It's like sitting on a ginormous swing that's lifted high up into the sky, with your feet dangling as you swoop into different scenes, sure you're going to kick the surfers, river rafters, horseback riders and skiers you're gliding over. It's amazing how real it feels, especially with all the twists and turns, and the smells of evergreen, orange blossoms, the ocean and the cold snowy air on the mountaintops. I always get goose bumps at the end, which culminates with the fireworks and Tinkerbell flying over the castle. Walt would definitely be proud of the Imagineers who came up with this one.
In fact, more than a few times during this last trip, I wondered how Walt would feel about how Disneyland has both evolved and stayed the same since he created it in 1955. I thought about it when I saw the light on above the fire station on Main Street, which Disney freaks like us know is left on as a tribute to him. Word is, when the light is off, it means his daughters are in the park. Walking down the middle of Main Street, I thought how cool it must feel to be one of Walt's children, seeing the throngs of people filing in every single day, and knowing your dad built such a worldwide icon. And I imagined Walt himself, looking down at the park as if it were his child, and like any father, he would likely be proud of a lot of things the park has become, while shaking his head in disapproval at a few things. But just a few. Here's what I know he would be proud of, based on our most recent experience:
The park and the surrounding grounds remain immaculate. It still surprises me how clean it is, despite the fact that some 40,ooo people pass through the gates each day, give or take a few thousand depending on time of year. I never saw a single cigarette butt or straw wrapper on the ground. We even noticed a cleaning woman mopping the street at the end of the driveway of the Grand Californian Hotel. I said to the girls, "Look how hard that woman is working to keep it clean for us. I'll bet no one ever thanks her, so let's thank her today." And so we did. But then BK kind of ruined the moment when he said, "She should be thanking us! We're paying her salary!" (To be fair, this was at the end of our trip, so he might have been a little jaded—and broke—after five days of Disney dollaring.) But what really made me happy were the hand-sanitizing stations scattered throughout the park, complete with warning signs about staying home if you're exhibiting signs of illness. Which no one did, obviously, as I've never heard so much productive, hacking, gross coughing in my life. (There's no place like Disneyland to kick the germophobia into high gear, especially in those crowded enclosed lines.) Still, it was nice to see the Disney folks cared about us and our health, even though these dispensers were empty  every time we attempted to use them.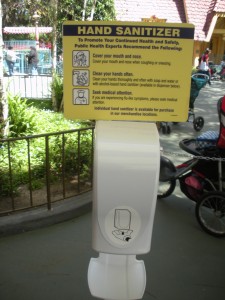 It's still all about the details, just as Walt wanted. This photo says it all: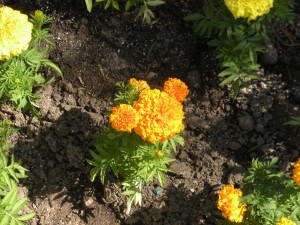 There was no shortage of healthy snack options wherever we went. Sure, there's still plenty of churros, corn dogs, face-size lollipops, ice cream bars and cotton candy around, but there are also lots of fruit stands and healthy items on every menu. One day, the girls and I loaded up on snacks from a vendor cart while we waited for the Pixar parade at California Adventure. Our haul included pineapple spears, mango slices with cayenne pepper, bags of dried apples, a hunk of sourdough bread and a pickle that stunk up our cooler for the next two days. But don't be too impressed at this relatively healthy spread—snacks for the next night's fireworks viewing included a giant frosted Rice Krispies treat, a couple squares of fudge, chocolate-covered marshmallows on a stick and this adorable Minnie Mouse apple that cost $8.95. Yep, Walt would be proud: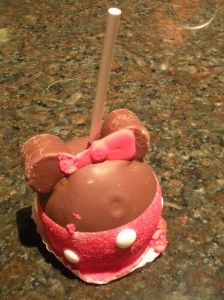 We were in line for Splash Mountain over in Critter Country, trying to figure out what to do next because the big girls wanted to hit Space Mountain, but we didn't want to jet all the way over to Tomorrowland to find an hourlong wait, especially when our 4-year-old had been asking to go on Dumbo all day. What to do? Well, there's an app for that. Seriously, there is, and it's called MouseWait. Though not affiliated with Disneyland, Walt would be so proud of this genius iPhone app that we depended on throughout our stay. Not only does it list updated wait times for all the major attractions in both Disneyland Park and California Adventure, it also includes real-time park news, like "They just ran out of coffee at Market House!" or "Space just shut down!" or "There's a big crowd by the castle right now, anyone know what's up?" I discovered and downloaded this free app before we even started planning our trip, which allowed me to keep my eye on things before we went. It was a good tool to gauge the daily crowds, and gather all sorts of other helpful information, like daily hours and events, where to eat and where not to (I learned someone got food poisoning at one of the restaurants there, so we steered clear of that one!), park tips and updates, and even glimpses of the parks via live webcams. The girls enjoyed reading about all the Hidden Mickey spots, and I enjoyed lurking in the MouseWait live chat lounge, where all the cool MouseWaiters hang out and discuss most things Disney. There seems to be a core group of them—many of whom I'm guessing are annual-pass holders—and they actually have regular meet-ups and reunions in the park. Even though they seem like a very nice, welcoming bunch (they love Disney, how can they not be?), I didn't feel cool enough to jump in on any of these conversations until our fourth day there, when I woke up with a horrendous migraine. Migraines and Disneyland do not make a good combination. Not wanting to miss out on the fun (or worse yet, waste a Park Hopper day!) I had to drag myself out into the bright California sunshine and try to make the best of it. So I turned to MouseWait. I created a user name (Melody, after Ariel's daughter), jumped into the chat area and asked for suggestions for quiet, out-of-the-way spots at California Adventure where I could park myself while the rest of the family played. Almost immediately, I got 16 responses, all with great suggestions and most with "hope you feel better soon!" sentiments and even headache remedies. They were all so nice, it made me tear up right there sitting outside of Grizzly River Run rapids ride. But perhaps most helpful was the wait times feature. The app employs a patented technology called MouseRank that uses some kind of algorithm that combines a bunch of factors that result in accurate wait times. I don't know exactly how it works, all I know is that it does and it's surprisingly spot-on, and it saved us a bunch of time while we were there. The only downside was that I was glued to it like a preteen with a DS, especially while waiting in line. I still get on it a lot now, living vicariously through others who are in the parks at this minute. Walt would definitely be proud of this one. And did I mention it was free?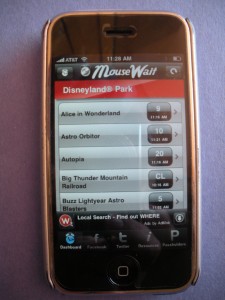 Disneyland has a way of bringing out the best in people. On our second day there, a woman came up to us and handed us a balloon for Little Miss. This wasn't just any old balloon—this was one of those high-dollar (10 bucks, I think) balloon-within-a-balloon balloons that stay inflated forever. I have no idea why she gave it to us, but Little Miss loved it so much she refused to let go of it, even though it was triple-tied to her stroller and weighted down with a water bottle. She stopped going on rides for the rest of that day because she didn't want to let go of it. We brought it out with us every day, and even trusted it with a cast member who wouldn't allow us to take it in to the Aladdin show. Unfortunately, the happy balloon story has a sad ending. On our drive home, about an hour outside of Anaheim, for some reason that will forever be unknown, Twin B decided to open the back window. From the front seat, all I heard was a loud sucking noise, and then the wails of a devastated Little Miss. When I turned back, I saw that giant pink Mickey head getting smaller and smaller as it glided over the top of the freeway bridge behind us. BK scolded Twin B for opening the window, causing her to burst into her own tears, followed by Twin A then bursting into tears. So thank you anyway, random stranger lady, for the balloon. For a short while, it brought our daughter precisely the joy that Walt intended.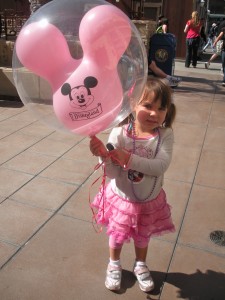 It's hard to say how Walt would feel about Bats Day, which happened to fall on the weekend we were there. I'd never heard of it, but apparently it's a huge unofficial gathering of the goth/death rock subcultures. Their website touts it as "the largest dark alternative subculture gathering on the West Coast," and I'd have to say that was an accurate description. Our first clue that something was up was the sea of black we noticed as soon as we got to the castle that day. Our second clue was all the parasols, combat boots, prom dresses, top hats, fishnet stockings,  skulls, guyliner and trench coats. The park photographer told us it was "Goth Day," but then MouseWait told me it was "Bats Day." We even saw a few gas masks, which I guess goes along with some of those alternative genres. At least that's how one MouseWaiter and possible Bats Day participant explained it to me when I asked, also saying, "There's Goth and then there's stupid." Not surprisingly, the Haunted Mansion remained packed all day long, and I heard later that the parking structures were full of hearses. It was fascinating. And a little scary, especially when Twin B and I ended up in an elevator car full of them on Tower of Terror. In line, one guy who sported the tallest, sharpest, spikiest mohawk I've ever seen, asked Twin B if she was scared. He meant of the ride, but I could tell by the way she was staring at his hair and sidling up next to me, that it wasn't the ride she was scared of. I wasn't scared until we got on and Spike said, "OK, back row, grab the person next to you and choke them for the picture." Luckily, we were in the front row. This went on all weekend, and it sure made for some excellent "people watching." It was essentially a Twilight novel come to life, minus the hot young vampires. (This group spanned all ages—I never imagined that senior citizens were into Goth, but apparently, they're out there.) It was even better than when we accidentally and unknowingly  found ourselves smack in the middle of "Gay Day" in Disney World one time the first weekend of June.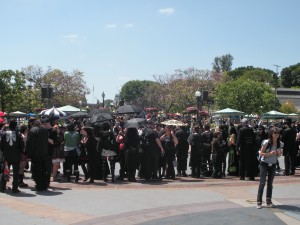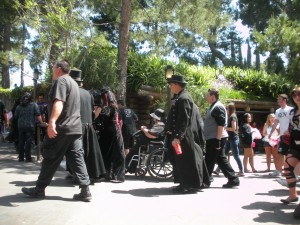 Now for the parts where Walt might've wanted to put a few cast members in time out:
At the end of our trip, we went to the World of Disney store to buy a few souvenirs. It wasn't until after I got home that I noticed a small message with an asterisk on the bottom of our receipt. It said "WARNING: This product contains chemicals known to the state of California to cause cancer, birth defects or other reproductive harm. Thanks for visiting the Disneyland Resort. Have a Magical Day!" Unfortunately, the asterisk was referring to the Ariel necklace that Little Miss picked out as her souvenir—and wore the entire 8-hour drive home. Great. She already lost her balloon, now I've got to take away her necklace, too. But I'll have a "magical day" doing it! I wish this information were posted with the product, so I wouldn't have bought it in the first place. Oh yeah, I'm sure that's exactly the point. I don't think Walt would have knowingly sold anything that causes cancer and birth defects.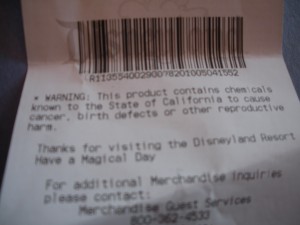 At California Adventure, I ordered a chicken wrap for lunch at the Bountiful Valley Farmers Market. I ordered the Sonoma wrap, with grapes and a yogurt sauce, but instead got the Buffalo chicken wrap. BK went back to the counter to switch it out for me, and since I had taken a bite of the incorrect one, he said he would just eat it. But no. The cast member at the window said he had to witness him throwing the incorrect order away before he'd replace it, and he actually craned himself out of his window to make sure it did, indeed, go into the trash. Sheesh! What a ridiculous waste. I was so annoyed, and I'd bet Walt would would be, too.
After dropping more than a few dollars on a salon makeover for Little Miss at the Bibbidi Bobbidi Boutique (see previous post), we immediately went on Peter Pan's Flight. After the ride, Little Miss noticed she was missing the purple ring she'd just gotten as part of the makeover. Upon exiting the ride, I told the cast member, who instructed me to come back that evening after 8, when they do a cleanup of the ride, collecting lost items. We did come back that night, and the nice Peter Pan cast member told me it wasn't found, but that if we went back to Bibbidi and explained what happened, they'd give us a new one. You gotta love Disney. Except: When we went back to Bibbidi and explained the situation, a surly woman (who was no fairy godmother) told us she would have to call her manager. After some time, the manager came out and said all officially that we would have to go back to Peter Pan and have them fill out a loss report. Are you kidding? They were acting like this was a real 10-karat amethyst, when it was really just a $4 ring! And it probably was known to cause cancer and birth defects, too! "Never mind," I said, "It's not worth all that, and it's not like it was even real." But then after the manager left, Surly told us to just take another one. But she wasn't happy about it. I'm pretty sure Walt wouldn't have been, either, but not because he was out a silly ring.
Still, even with these few disappointments—and even with the crabby old cast member at the exit who growled, "That's my foot" after we accidentally bumped him with our stroller—there's no question that when it comes to theme parks, there's no place like Disney, both Land and World. Disney just knows how to do it right, which in a way, has kind of ruined any other theme parks for us, like Knott's Berry Farm and Magic Mountain. Even with their high-tech super-scary thrill rides, compared to Disney, they might as well be the state fair.
And for that, Walt should be proud.