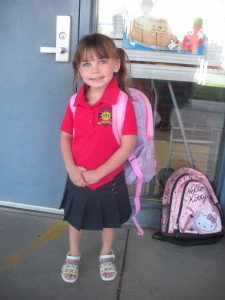 So, we survived the first day of kindergarten! (I say "we" but really mean "I," since it was, as expected, more traumatic for me than for Little Miss.)
I have been dreading this day for five years. Really, five years. I knew from experience how quickly my time with her would fly, and I held on to each day we had together as tightly as I could until the inevitable school years snatched her away.
I knew the day would be hard. I knew it because, well, I'm a mom, and because I'd been through it years before with my older girls. I still go through it, every year on the first day of school.
Last spring, the school had a "kindergarten buddy day," in which incoming kindergarteners visit the classroom of outgoing kindergarteners, while the parents go to the library and listen to the principal talk about all the things to come. That was the day when the lump in my throat began forming, and as I watched a boy take her hand and lead her away from me and toward the classroom, that lump evolved into full-on tears, causing the other parents to glance at me uncomfortably. After all, it was only a half-hour, and we had four months before the real day came.
Still, I barely got through that 30 minutes, which is why I knew the first day of real school would be so, so hard, and which is why it put a huge damper on my summer that even a week on the beach couldn't lighten.
Thankfully, Little Miss didn't pick up on any of that, and has been beyond excited to begin this new chapter of her life.
Over the weekend, we bought her an alarm clock of her very own, and she was so excited to wake up to it on Sunday morning at 7:45. (This, from a girl who's been luxuriously sleeping in until around 10 all summer instead of getting dragged out of bed every morning to accompany me on the drive to her older sisters' school.)
When the "night before" finally arrived, she was bathed and brushed and in bed by 8:30, with her alarm set, uniform laid out and a pile of school-themed books picked out as bedtime stories. Of course, we read The Kissing Hand, and I almost made it to the "I love you" without crying. Her sisters and I put kisses in her hands, and she gave us some of her own. Poppy presented her with her very first Twist-Erase mechanical pencil, a requirement for all students in this household. (Remember, Poppy is an engineer, and is highly OCD about mechanical pencils. I can't stand them. Mechanical pencils, that is.)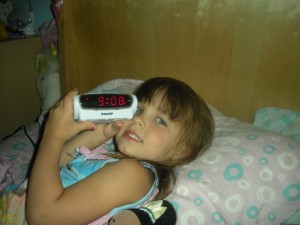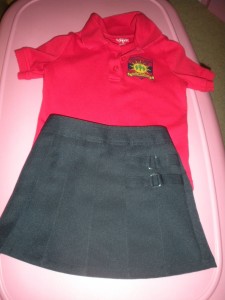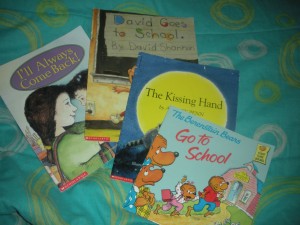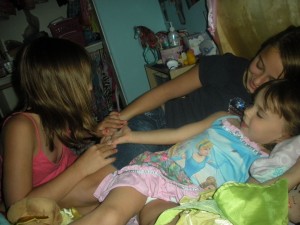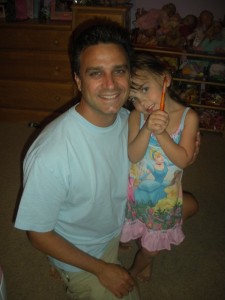 She had a hard time falling asleep, despite having gotten up early and despite having swum all day at her grandparents' house. I had an even harder time of it, and literally watched the clock change hour by hour, until finally 7 a.m. came and there was no more postponing it.
The day had come.
Why did this have to go so fast? Why does this have to be so hard for us moms? I know it's hard for dads, too, but I think it's a different kind of sadness. For them, it's hard watching their kids grow older, which means they're growing older, too. For me, that's a component as well, but it's more about letting go of and missing this little person that's been attached to me, day after day, all day long for five whole years.
Her teacher understands this apparently, as when we met her on Open House night a few days before school was to start, she looked at my teary eyes and handed me an envelope that said "Open at 9 a.m. Monday morning." Sensing it was probably something that was going to make me even sadder, I decided not to wait and opened it right away when we got home that night. I'm glad I did that.
Inside was a tissue, a cotton ball, an herbal tea bag and a poem that put the tissue to good use. Here's what it said:
The First Day of Kindergarten
I know it was hard for you to leave today
And know your child must stay.
You have been with her for five years now
And have been a loving guide,
But now alas, the time has come
To leave her at my side.
Just know that as you drive away
And tears down your cheek may flow
I'll love her as I would my own
And help her learn and grow.
For as a parent, I too know
How quickly the years do pass
Not so long ago, it was my turn
to take my children to class.
So please put your mind at ease
And cry those tears no more
For I will love her and take her in
When you leave my door.
And beneath that, she wrote, "Thank you for entrusting your child to me. I will try to do my very best to be your child's guide in learning and exploring this bright new experience in Kindergarten. Enjoy the nice cup of tea. Put up your feet and relax. Then hold the cotton ball in your hand. The softness will help you recall the spirit of your child."
Of course, the floodgates burst, right there on the kitchen rug. Twin B came to comfort me, and I handed her the poem. She read it and shed a tear or two of her own, passed it on to her sister to read, who tearfully passed it on to her father, who got a bit misty himself. Luckily, Little Miss was oblivious to all of this, happily chattering about her new school, without a worry in the world. I'm so grateful for that. I will take care of all the worrying and nervousness. And I do a great job of it, too.
I worry that she'll get hurt or sick at school, or that she'll get her feelings hurt, or that she'll feel awkward or lonely on the playground, or that she'll feel uncomfortable about using the school bathroom. I worry that she won't be able to poke her straw through her juice box, or open her string cheese by herself at lunch.
She is the baby of the family, and as such, always has four of us looking out for her, doing things for her, telling her what to do or what not to do. And yet, this child is extraordinarily independent. She loves nothing more than to shut her bedroom door and play with her dolls, talk to her Disney Princesses and Polly Pockets, listen to music, read a book or color.
So I knew she'd be fine after we said goodbye on that first day. In fact, when we discussed it earlier, she said, "How about if you just say goodbye at the door and then leave, OK? But make it a quick goodbye because I don't want to be late."
And that's pretty much what we did. All four of us. Poppy took the day off for the occasion, and we all walked her to her classroom, the very same classroom that we had tearfully dropped her older sisters off seven years ago. I was stronger than I thought I'd be, even with the flood of those memories coming back.
It wasn't until the first bell rang and all the kids  lined up with their giant backpacks on their tiny backs that I started to cry. Our Little Miss just looked so tiny standing there, even tinier than the rest of the tiny ones. When the second bell rang, she jumped out of line and ran to her father, cheerfully saying, "Bye, Poppy! I love you!" Because of the throng of paparazzi parents shouting and waving to their kids, I could only reach her hand. I gave it a squeeze and said, "Have a good day, sweetie!" And then we watched her go in. And I cried. Like, almost the ugly cry. A mom next to me looked at me and sympathetically said, "Oh, it's OK!" and patted my arm. This poor mom, probably sad herself and comforting her own child, now has to worry about comforting me? I was so choked up, I couldn't even respond to her. I hope she doesn't think I'm rude.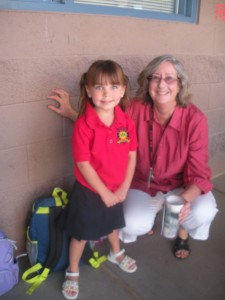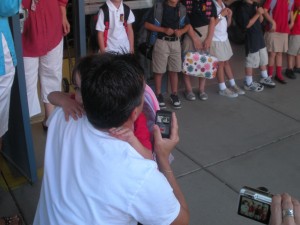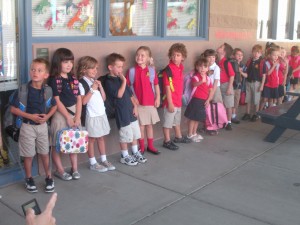 As the four of us walked back to the car in the searing heat, it felt so strange. Someone was definitely missing. That feeling got even stronger when I glanced at her empty booster seat when we got into the car.
After we got home, we all got busy. Poppy made espresso, the twins got busy making the homemade pink cupcakes they'd been planning to make Little Miss for an after-school surprise, and I wrote this blog post, while my eyes got some kind of repetitive-motion injury from looking at the clock so many times.
Because Little Miss turned five only a week ago, and because she had never been in a preschool setting, and because I think a six-and-a-half-hour day is ridiculously long for a little person like herself, I've opted to pick her up early after lunch for now. Of all three kindergarten classes, there's only one other mom doing this that I know of. (I was really pulling for the half-day kindergarten measure to pass in our district but I won't get political here.) The school is supportive but I think not thrilled about this, and I know neither will Little Miss be, once she finds out what she's missing: free choice, buddy reading, specials (art, music, P.E., Spanish), and naptime, in which they all rest on beach towels on the icky floor. (Poppy calls this "Lice Time.")
We're taking it day by day but my guess is she'll be going full-time sooner than I wanted.
We arrived after lunch to pick her up. Shortly after I signed her out, she burst through the office door, holding her teacher's hand and said, "I met a girl and I asked her to play Tag and she said, 'No, let's play Hide 'N' Seek instead!' so I did!" We don't know this girl's name, but Poppy branded her Miss Bossy for the remainder of the day.
I looked at her peanut-butter-and-jelly-streaked face and her sweaty, disheveled pigtails and saw the same pure joy and excitement that I saw in her sisters' faces every time they came home from school in those days. (Middle school is a little different. Unfortunately.)
She had a great day.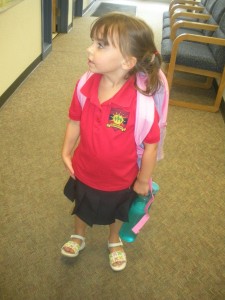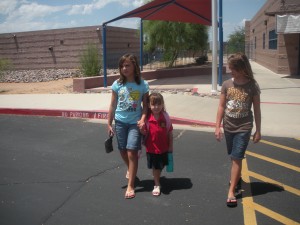 Of course, we all bombarded her with questions that she couldn't keep up with, and when we got to the car, I said to everyone, "You guys, one at a time, let's not bombard her with questions; let's let her tell us about her day as she feels like it."
Me, two seconds later: "Did you eat all your lunch? Were you able to open your drink and your string cheese? Did you have snack time? Did you use the bathroom? Did you wash your hands before lunch? Who did you play with?"
Immediately upon coming home, she went to the bathroom (no, she didn't go at school) and wanted to take a shower. Then her sisters surprised her with the pink cupcakes, inspired by her current favorite book, Pinkalicious. (Thank you, Kennah!)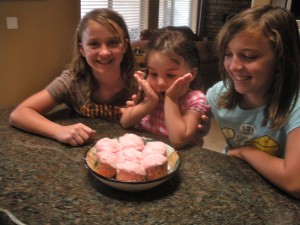 Bit by bit over the next several hours, we got more information from her about her day, especially when grandparents and aunts called to see how her day went. We learned that:
She dropped her granola bar at snacktime and was starving by lunchtime.
She dropped her string cheese somewhere and didn't eat it "cuz it touched the dirty floor," even though it was still in the package when it was dropped.
Someone named "Crab Box" helped her open her drink and read her the note I put in her lunch box.
A boy hit his head on the playground.
A girl in her class had really fancy shoes on.
A boy tried to sit in the teacher's chair before storytime.
She got to help do the calendar with a zebra pointer.
A girl asked her what kind of berries the champagne grapes she was eating were.
Her teacher read The Kissing Hand to the class.
They made raccoon masks.
A girl at her table has really red eyes, "not pretty red, like a crayon, but red, like she cries all day." (She whispered this part in my ear.)
When bedtime finally came, she was so wound up and excited and could not stop talking. But for me, that was relaxing. It reassured me that she did not get sick or hurt at school, nobody hurt her feelings, she didn't feel lonely or sad and she had help at lunchtime.
It was a good day.
Like Mrs. Raccoon says to her little Chester in The Kissing Hand, "Sometimes we all have to do things we don't want to do," she told him gently. "Even if they seem strange and scary at first. But you will love school once you start."
And I know I will, too.
Eventually.